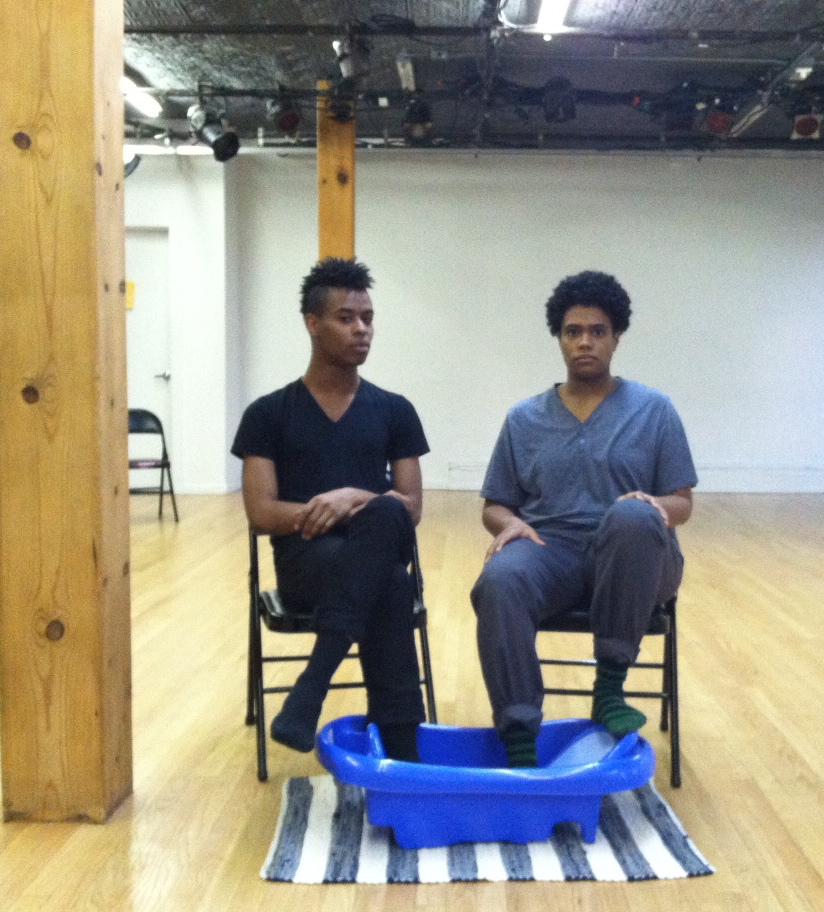 niv began the entire denzel series while living in Philadelphia, (2009-10), where he was awarded the Art and Social Change Grant to mount an evening of performances with co-organizer, iele paloumpis. It was during this process niv began research on black masculine representation in film or otherwise mainstream media. niv developed the first two solo's in the series, titled denzel and denzel prelude, based on his interest in Denzel Washington's character performance in the film "Glory" (1989). What drew him into researching Denzel and then naming his work 'denzel' was the thought of building on what he thought were established black masculine archetypes in pop culture. niv identifies as transgender on the masculine spectrum and was curious how he could fit or not fit into the role of a black male idol, such as Denzel Washington, via performance. He has made it a point to work and exclusively feature artists of color in the denzel series and also work within his financial and resource means. Which meant instead of purchasing an actual bathtub for denzel mini petite b a t h t u b happy meal he used a plastic infant bathtub he found on a street curb in east flatbush, brooklyn.

His most recent solo, i shot denzel was recently presented at AUNTS in the American Realness Festival at Abrons Arts Center and also through Movement Research at Judson Church. niv showed an earlier version of this solo on a shared bill at Center for Performance Research and at the 92nd Street Y, Fridays at Noon series. In the spring of 2012 niv showed three versions of his group work titled, "denzel mini petite b a t h t u b happy meal" at Danspace Project for Draftworks, Brooklyn Arts Exchange during the UPstart Festival, and in AUNTS Here at The Secret Loft.

In December of 2011 niv premiered a new work, featuring his mother and close friends, titled denzel again, at New York Live Arts in the Fresh Tracks Residency show. Earlier in 2011 niv workshopped and showed a piece he called "denzel superstructure", which he shared at Open Performance through Movement Research and also at The Community Education Center in Philadelphia.

Before beginning the denzel series, niv had taken a two year hiatus from choreographing to investigate his gender and queer sexuality after his studies at California Institute of the Arts (2006-08). During this time niv found his own voice as an activist. Before attending CalArts niv was a dance major at Washington Irving High School and studied at the Martha Graham School of Contemporary Dance as a scholarship student. niv showed interest in movement at a young age and first began classes at Columbia University's Teachers College youth after school program, taking composition and Limón Technique. niv is Black-Dominican, and was born and raised in Manhattan, New York.



denzel minipetite b a t h t u b happymeal, began as a 5 minute party piece for AUNTS Regular at The Secret Loft space in Bushwick (2011). the piece evolved as a loose parody of niv's Fresh Tracks residency piece called "denzel again" and then evolved into, what niv has contextualized as the psychosis of "denzel again". exploring the very felt experience of impossible bodies in denzel ... b a t h t u b..., niv is playing with elements of voguing, poetic vernacular, shade, post-modern movement culture, and pop music (including bach). this piece like others in the denzel series is answering to niv's own interest in transgender and queer identities and how they intersect with blackness.